Why Net-Works?
"Net-Works" is an inclusive impact business that provides a simple, scalable and holistic model to sustainably source seaweed and recycle discarded fishing nets, thus improving the lives of coastal communities and protecting critical coastal ecosystems for climate adaptation and mitigation.

+ 752.6 ha MPA areas (triple)
+ 205 ha No-Take 'replenishment' Zones (double)
+ 685 ha No-Take 'replenishment' Zones by the end of 2019
+ 25 ha of mangrove rehabilitation by the end of 2019
Goal 2025: 2,500 ha mangrove rehabilitation (current project sites) and 100,000 ha designated as improved and effective (enforced and sustainable) MPAs (across the Philippines and Indonesia). This has the potential to reduce emissions of about 150,000 tCO2e per year.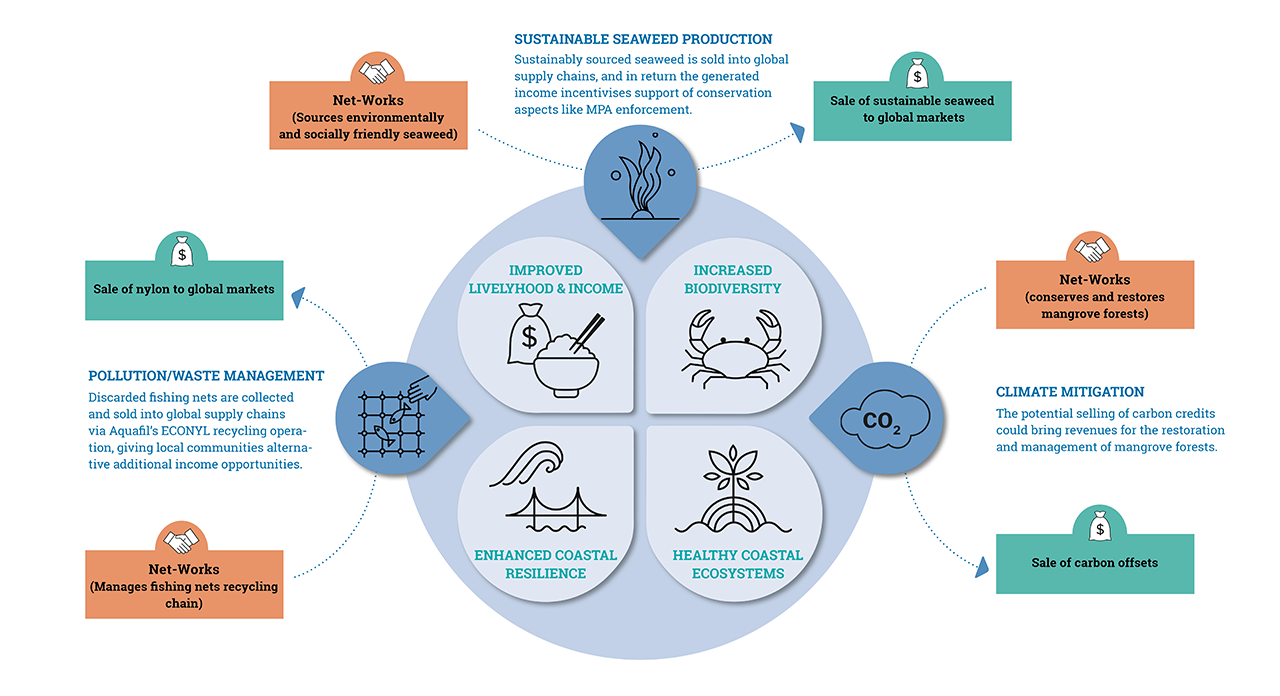 Net-works has created efficient and equitable community-based supply chains for raw materials that generate sustainable livelihood opportunities for marginalised coastal communities.
The economic activities rely on and enhance the creation and effective management of Marine Protected Areas (MPAs), thereby protecting fish stocks and mangrove habitats and supporting the restoration of degraded mangrove forests. The intervention shows that classic conservation and MPA management cannot just go hand-in-hand with sustainable income generation for local communities, but that sustainable income is generated through improved conservation.
The business is located in the Philippines and is meant to attract private investments to grow from a small village-run pilot operation into a regional leader of the circular economy.
Bridging the gap between profit and conservation
Net-Works is an award-winning initiative striving to become a successful business that redesigns global supply chains to restore coastal ecosystems, reduce marine plastic pollution and improve the socio-ecological resilience of marginalised coastal fishermen and -women communities. Net-Works is currently operated by the highly reputable Zoological Society of London (ZSL)
Business Activities
Net-Works undertakes profit generating activities to ensure conservation and livelihood efforts are being maintained, strengthened and scaled-up. Those activities are:
---
Sale of collected fishing nets
Discarded fishing nets are collected, sold and shipped to Aquafil's ECONYL® recycling operation, and from Aquafil to the Circular Economy platform which ECONYL® is making available to a number of Nylon supply chains.

Sale of sustainably produced seaweed
Through the production of seaweed, Net-Works intends to improve and incentivise sustainable livelihood opportunities for coastal communities and to find a profitable business activity that helps finance crucially needed conservation efforts. Seaweed farming is a well-established industry in the Philippines, that is however mostly based on inefficient supply chains that drive unsustainable farming practices. This, combined with the rising global demand for seaweed, provides Net-Works with an attractive niche. The main sustainability element of the seaweed farming comes from the farmers' and artisanal fishers' engagement in Marine Protected Areas management which is not a common practice anywhere but particularly not in the region. A significant part of Marine Protected Areas are dedicated to strict no-take 'replenishment' zones and conservation measures stretch to the coastal zones and include the rehabilitation of mangrove forests.

Sale of carbon offsets from mangrove conservation and rehabilitation
A key impact from the Net-Works` operations is the added value to conservation and mangrove habitat rehabilitation. This paves the way for a new income source. The potentially generated "Blue Carbon" is an attractive carbon-offset opportunity sought after on voluntary and mandatory carbon markets alike.